80V RS2000 Java Green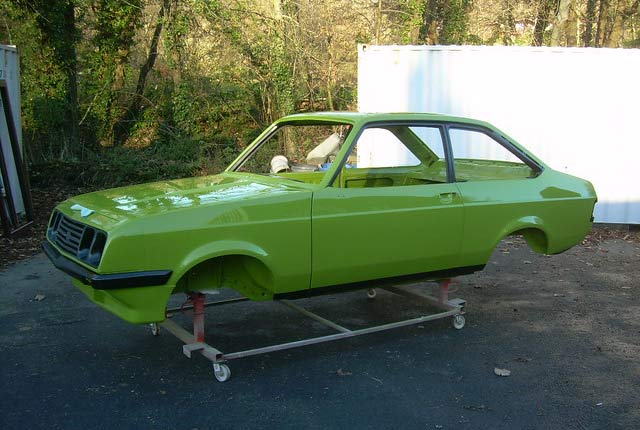 We had been looking for years to buy an RS2000 custom in the very rare java green ….one was found on ebay and I missed it..it sold for £1500 by the original owner to a bedroom business man a kitchen fitter who bought and sold cars. He wanted £3500, just a mere £2000 profit !!!…i offered him 3000 but no budge on price…really dejected as we had been looking for twenty years for a car in this colour I just about gave up…then low and behold in a classic car magazine there was another….the gods were on my side..i rang the owner went that day 350 miles and bought the car complete with mot and driving  happy days…delighted with my new pride and joy we started the big strip down , itemising all the trim metal parts bagged and boxed for powder coating , nuts and bolts for zinc plating . the shell was now bare and on the spit…low and behold another came up for sale , so I bought that as well so now I have two java RS2000 cars..!!….the big build started all under seal and sealants removed by hand then all washed down with white spirit. All rust and rot cut out and braced. The shell was now ready for the sand blaster…after the car was sand blasted, it was painted with two coats of zinc rich primer, then returned to the spit and in between jobs the shell was brought back to life again and looking like a new shell. Off the shell went to the bodyshop who lovingly repainted the shell inside and out, creating a wonderful platform for the rebuild. Over the past twenty or so years I had been squirrelling away all the original gp1 parts like a genuine baby atlas axle , twin 44 idf carbs, the rare airbox etc and had got them all rebuilt when I could. Now everything was ready to be refitted back onto the shell…all thread chased and a gallon of waxoyl later we have started the build. Please follow the car as week by week a little progress is being made.
Please click on button below to view full photo gallery of 80V RS2000 Java Green.